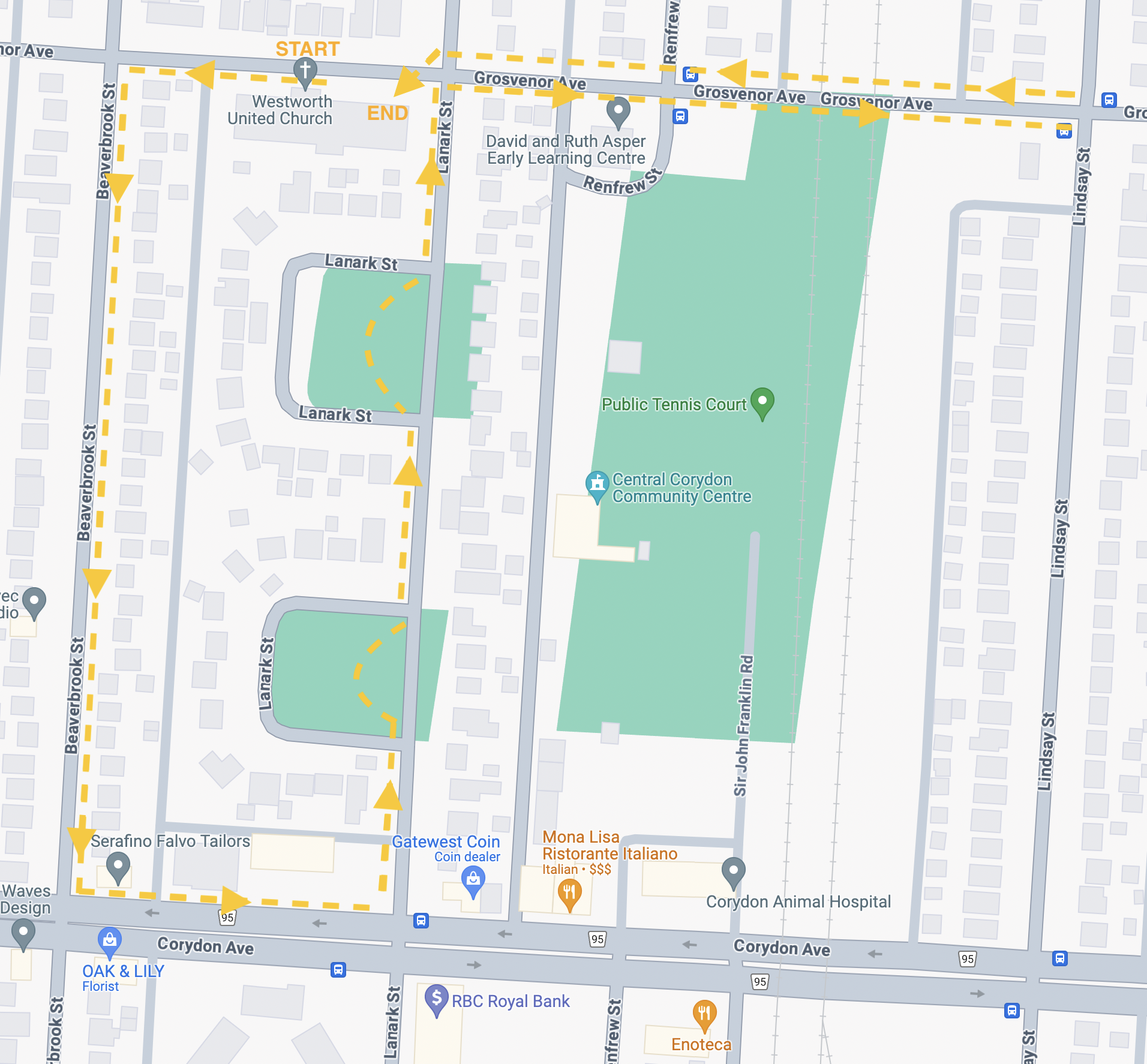 We will be have a soundwalk before the October 11th concert at 630PM starting from the venue led by Dr. Suzu Enns. 
October 11, 2023

 / 7:30pm / Westworth United Church
SOUNDWALK in Winnipeg's Sir John Franklin neighbourhood
Schedule:
6:30pm meet at the entrance to Westworth United Church
5-minute preamble
20-minute walk
10-minute discussion/conclusion
7:10 go into concert
The Sir John Franklin neighbourhood of Winnipeg features calm, tree-lined streets, unique homes, and sidewalks full of character. Busy nearby and bordering streets include Academy Road, Corydon Ave and Kenaston Boulevard.
We will be taking a short walk in the neighbourhood with an aim to focus on aspects of its distinctive soundscape. Before we begin walking, Suzu will provide a short introduction and some listening prompts to ease us into the soundwalk.
Some useful considerations and listening prompts:
What is a soundscape?

"The mixture of different sounds that are heard in a particular place." (Cambridge Dictionary)

What is the difference between hearing and listening?

Generally, when we hear music, sounds, or noise, it is a passive experience. Listening is an active, engaged experience.

What are your listening habits?

In what areas of your daily life do you have a passive experience with sounds or music, and in what areas are you more intentional and active in your listening?

Some soundwalk participants may find the experience rejuvenating. You may feel more awake and present in your environment, focused, relaxed, and connected with others and your surroundings. As participants connect more to their surroundings and engage their senses, it's also possible that some may find aspects of the experience uncomfortable or unpleasant.
Let your ears guide you to new sounds. There will be a wide range of constant, ambient sounds as well as some sounds that emerge in the soundscape gradually or suddenly.

When new sounds emerge, do they emerge gently or aggressively into the environment?
Would you describe the sounds in the soundscape as balanced or unbalanced? Why?

You may find that some ambient sounds that initially were not very noticeable 

now

 become more prominent in your listening.

Do you find that the particular sounds 

now

 seem intrusive, unbalanced, or unwelcome within the overall soundscape?

With a heightened sense of listening, do you find that some of your other senses are also heightened? If so, which ones?

With a heightened sense of listening, do you find that some of your other senses are slightly reduced? Is so, which ones?

What are some characteristics of the soundscape that are influenced by the changing seasons?
Walking and technology:

These days, it is common for people to listen to music or a podcast while walking. If you are someone who walks while connected to technology, reflect on the feeling of walking without your earphones and taking the opportunity to disconnect.

We will be walking on some streets with increased volume of traffic.

As you experience increased noise pollution, do you feel an urge to slow, quicken, or maintain your walking pace? Why?

What sounds do YOU make during the walk as you move through the environment?
Reminders and things to know:
We will be walking on a variety of terrain which at times will be uneven.     
Be prepared for the weather and choose comfortable footwear and attire.
We will be walking at a moderate pace.
A useful resource:
CBC Radio / Episode of Ideas (with host Paul Kennedy) that originally aired February 2, 2017

Ecology of Sound: Hildegard Westerkamp
Some points of interest in the neighbourhood:
Westworth United Church
      1750 Grosvenor Ave
Assiniboia Residential School Commemorative Monument and Gathering Place
      621 Academy Road
      Learn more at:
Carpathia School
      300 Carpathia Rd
      Learn more at:
New to Soundwalking? Listen to the interview below to learn more!
CBC Radio / Episode of Ideas (with host Paul Kennedy) that originally aired February 2, 2017