Elemental and overflowing with life, GroundSwell's 2015-16 season brings you heightened experiences, unique sound worlds and the best new music from Winnipeg and around the world. Featuring riveting performances by the Turning Point Ensemble, Belgium's fiery Daan Vandewalle, The Winnipeg Singers, as well as collaborations with Cluster Festival and send + receive. This is a season you won't want to miss!
Subscribe now and save 50% off the regular ticket price! Complete ticket info available here.
GroundSwell 2015-16 Concert Season
Click each concert title to learn more.
Turning Point:
Thursday, October 15, 2015, 8pm
Eckhardt-Gramatté Hall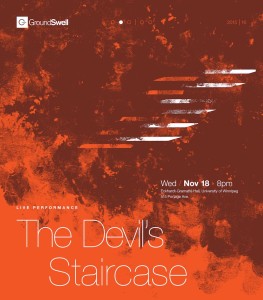 The Devil's Staircase 
Wednesday, November 18, 2015, 8pm
Eckhardt-Gramatté Hall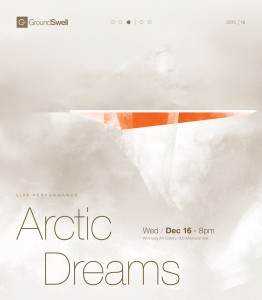 Arctic Dreams
Wednesday, December 16, 2015, 8pm
Winnipeg Art Gallery
Electric Breath
Wednesday, February 24, 2016, 8pm
Cinematheque, Artspace Building
Earth, Sea, Sky: Music of the Elements 
Sunday, April 10, 2016, 7pm
Crescent Fort Rouge United Church
Special Events!