Now available
Park Sounds is Jennifer Thiessen and Ben Reimer. Having recently returned to their home province of Manitoba from Montreal, the duo continues to explore their roots through new music. For GroundSwell's Linked series, Park Sounds has co-composed and recorded a 15-minute new work for drum kit, viola and field recordings, accompanied by video. Thunderous beats and processed viola loops interact with the sounds of Jennifer's father's clock repair shop in an ambient exploration of time.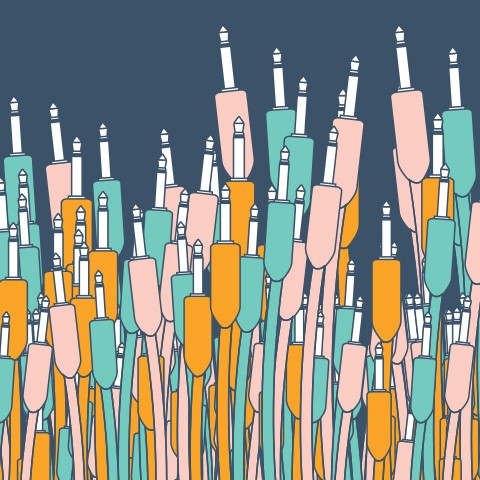 Prairie Wires
Now available
For Groundswell's 30th anniversary season, Prairie Wires is excited to present excerpts from the most recent Prairie Wires Modular Festival which took place on Saturday, September 12, 2021. Featuring performances by Forestine (Winnipeg), Ernie Dulanowski (Regina), Shotgun Jimmie with Leanne Zacharias and Casey Koyczan (Brandon, Yellowknife) and Matthew Cardinal with Stephanie Kuse (Edmonton, Saskatoon), the Riverbank Discovery Centre Amphitheatre came to life with a dazzling show of sound and light.
Forestine creates dark, angular and ethereal music exploring vulnerability and feelings through texture, noise and melody and E. Dulanowski creates ambient drone and noise pieces informed by the sounds found at the intersection of office building ambience and broken media transmissions. In a collaboration with cellist Leanne Zacharias, Shotgun Jimmie explores conversations between electronic and acoustic music against a backdrop of ever evolving visual textures by multidisciplinary artist Casey Koyczan. Finally, musician, sound designer and composer Matthew Cardinal performs from his 2020 album Asterisms, moving from delicate, minimalist pieces to vast drones and sparkling modular synthesizer beats intricately choreographed with surreal and gentle yet distorted projections inspired by sparse landscapes, contrasting natural textures and the ever-changing prairie light by media artist Stephanie Kuse.
Prairie Wires is humbled to exist on Treaty 2 territory, the traditional shared land of Cree, Oji-Cree, Anishinaabeg, Dakota, and Dene peoples, and the Homeland of the Métis Nation.
Slow Spirit
Now available
Fear Of Weather, 2022 is a Manitoban response to the 1982 film, Koyaanisqatsi, which the artists watched for the first time in a rural farmhouse near Riding Mountain National Park in late fall of 2021. At the time, the COP26 global climate summit was debating how the human race ought to proceed, given the destructive rate of climate change, while the COVID-19 pandemic continued to drag on throughout the world.  Manitoba's unique geographic placement and cultural inheritance sometimes feels invisible or unimportant to its residents. Fear Of Weather is an abstract video landscape of urban and rural Manitoba in this present time of great upheaval, pointing at just how unlike the rest of the world this place really is, and how living here, in the winter especially, is considered by some to be a sacred experience, and by others to be completely mundane and undesirable.
We'll use location sound recordings to enhance the transition between urban and rural settings, while also using digital audio workstation processing to loop and effect the recordings into a collage, playing with rhythm and pitch. Finally, Eric Roberts and Natalie Bohrn (a.k.a. Slow Spirit) will create a musical score to complete the soundtrack.
Fear Of Weather, 2022
Filmed by Eric Roberts
Edited by Eric Roberts and Natalie Bohrn
Original Score by Eric Roberts and Natalie Bohrn (Slow Spirit)
Sound Design by Natalie Bohrn
Unit 6
Now available
Vivat Virtute is Christine Fellows and JS Fellows, partners and cultural workers from Winnipeg. For this GroundSwell commission they created an audiovisual piece called Unit 6, inspired by their shared experience navigating local mental health services as patient and advocate. The text for this piece is J's radical translation of the lord's prayer, repeated while walking the halls of a psychiatric ward during the covid-19 pandemic lockdown; the music was made by J on electric guitar and ebow, incorporating Christine's manipulated hospital field recordings. Christine created the stop-motion video in response to the audio piece, employing paper, mirrors and light.